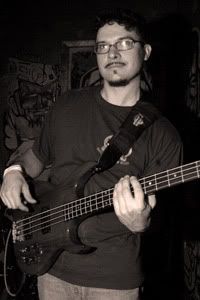 I wouldn't normally do this, but this Friday (August 17)
Radio Astronomy
is playing at Beermann's Brewery in Roseville, Ca. I'm posting this because Andy Armstrong (previous head brewer at BJ's and current brewer with Beermann's) is in the band - and yeah, the boy can play.
Great Beer and Great Music
Andy (
pictured
) is a man worth supporting. I've known Andy since he moved down to NorCal several years back and his passion for brewing great beer is only equaled by his passion to make great music, and his band-mates come together to do just that. Their site (linked above) has some samples of their music - good modern rock. While there make sure you check out the "Shocker" Belgian-esque beer that Tim has made - a blend of beers with 60 pounds of honey and three strains of yeast. At 11% ABV, this beer is highly enjoyable. If you're looking for something a bit lighter, try their Lincoln Lager - lasts years Gold Medal lager at the California State Fair.
They'll be selling CD's and Beermann's will be pouring good beer at great prices. Cash strongly recommended.